MAD for Washington
Namesté!


Just ate lunch. You know what you should NEVER eat for lunch?
Three sandwiches with last night's fondue in it
-- tastes good, but it clogs your arteries. Like, noticably. I'm not sure if it's even a good lunch for an Italian. You know: espresso and pastry for breakfast; four hours for lunch? Yeah. That disgusting. Had to burn it off by playing wii sports. Might have to have a siesta...
Spring break for me just happened at the end of March. Very fun! Went to Washington, D.C. with my dad. Saw some Smithsonian museums. My favorite was the portrait museum. After a few days in DC, before I left to take a plane to the Oakland airport, I checked out a cool collection of MAD Magazine stuff in a house of one of my dad's friends. Here a picture of my personal favorite:
A life-sized bust of Alfred E. Neuman. If he was real. One out of five of these, man. Friggin' rare. Also has a MAD straitjacket. Really works!
But what about my animations? Well, lots of my could-be making animations time has been tooken up by playing this video game I just got -- Super Smash Brothers Brawl. Now that I've unlocked all the characters and stages, I've been managing to not be too obsessed with it. Only sometimes, you know? I got a new animation coming up, but first, a comic strip: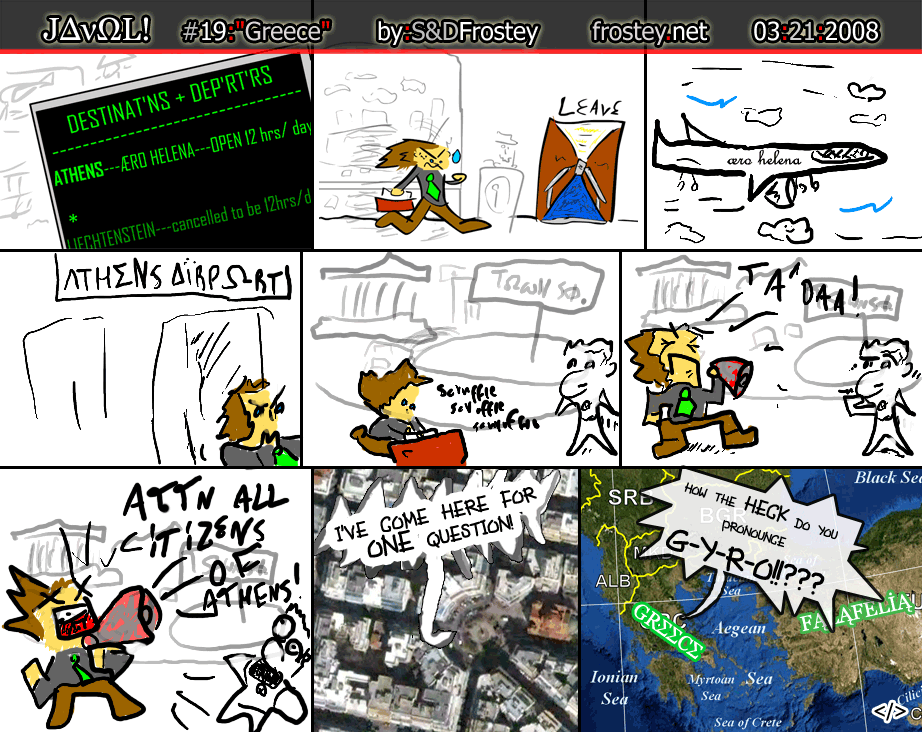 Well, ta-ta for now, messieurs!
-Eben "S&D Frostey"
Labels: alfred, D.C., fondue, frostey, frostey.net, greece, gyro, high school, homework, javol, palo alto, spring break, ssbb, taxi, Washington